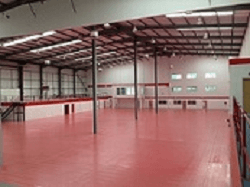 The Solution

With TP Flooring & Coatings having over two decades of experience, Missguided turned them, to provide a solution to upgrade the existing warehouse floor.

TP Flooring meet with Missguided in order to gain a full understanding of their individual requirements, timescale and to provide advice on the most appropriate specification. From these discussions a high performance resin coating was chosen as it was seen as providing the required speed of application in addition to providing a floor fully fit for their ongoing purposes.

The concrete was vacuumed shot blasted, a clean dust free process. The edges were prepared with a diamond grinder, providing a textured surface suitable for the application of coating. Once complete a high performance resin coating was installed over two applications. The preparation works and the coatings needed to be applied within a tight timescale in order that the floor would be ready for the installation of the warehouse racking. This stringent schedule was achieved through the organisation, skill and experience of TP Flooring. Missguided was delighted with the finished product and the performance of TP Flooring throughout the process.

The Testimonial

Brett Leadley-Kramer, Operations Manager for Missguided, said: "The whole project was excellently handled by Derek Hopkins and the advice we got at the time was invaluable. After having a free survey completed a date was arranged for installation. The team was given a budget that they worked to and took on board the requirements for the new floor that would complement the facility, which had to be a bright statement to go well with the company".