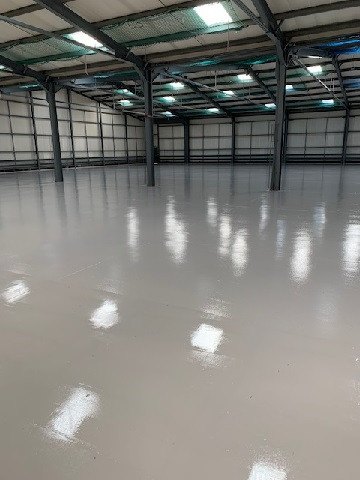 TP Flooring & Coatings Ltd were awarded the contract to install epoxy resin flooring to the warehouse floors in Units 42 & 47 (totalling 3,000m2) at Deeside Industrial Park, Flintshire, on behalf of J Mills Contractors Ltd.
The works comprised of surface preparation by means of vacuum-assisted diamond floor grinding, carrying out localised patch repairs using an epoxy resin mortar and trowel applying a flexible jointing compound to the existing movement joints, before levelling off to give a smooth surface finish.
The warehouse floor was then re-decorated by installing two coats of a two-pack high build epoxy resin (Resistocoat) in agate grey and incorporating a random scatter of aluminium oxide to provide a degree of non-slip to the final floor finish. All works were completed in a timely manner, under strict Covid-19 health and safety guidelines, and to the clients' great satisfaction.
Before
After